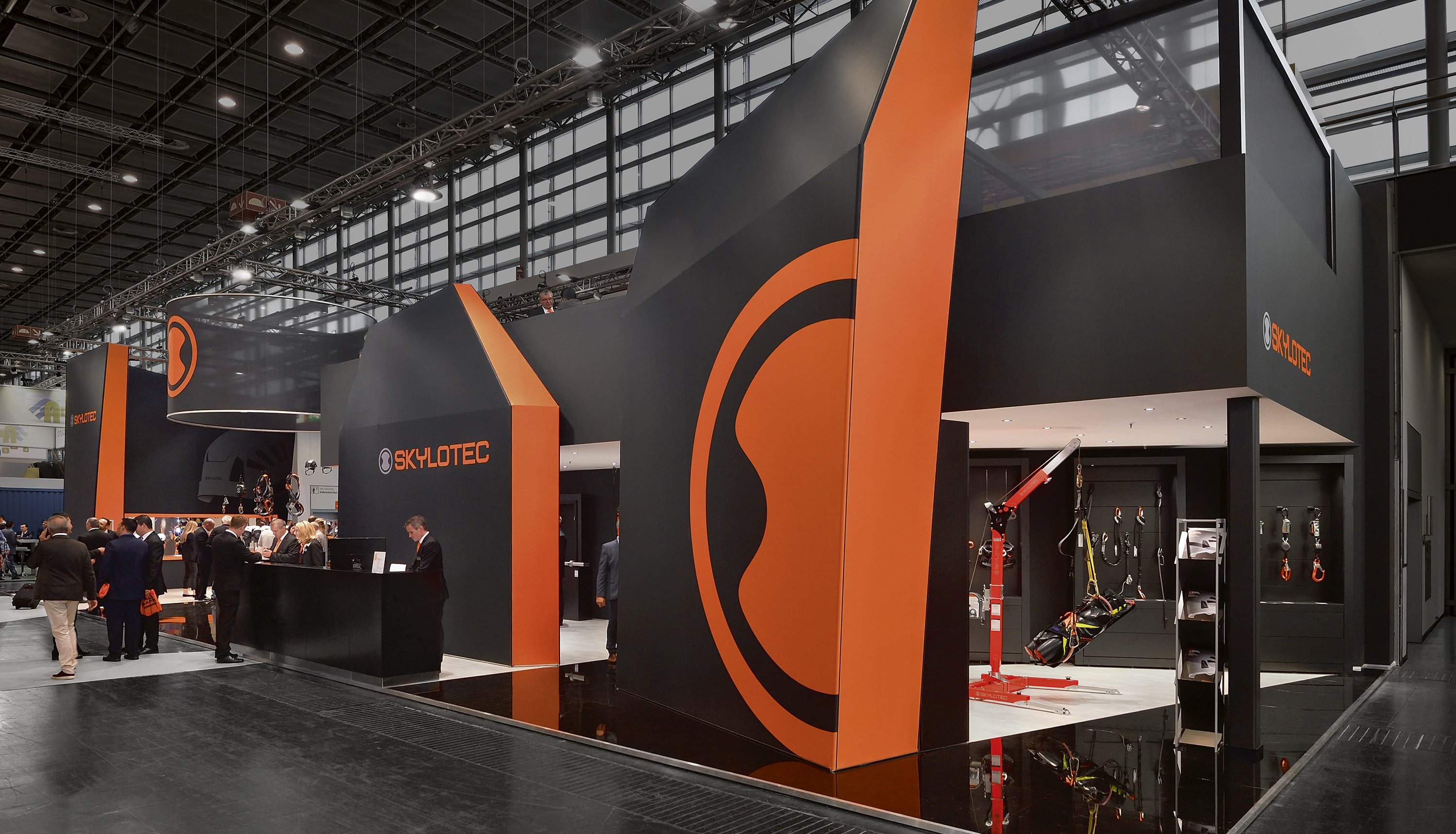 Skylotec
Skylotec GmbH from Neuwied is a specialist in securing people against falls from a height. For the A+A, the world's leading trade fair for personal protection, occupational safety and health at work, the company commissioned the Münster-based exhibition stand builder Schendel & Pawlaczyk for the first time to plan and realise its exhibition stand.
SKILFUL BRAND PRESENTATION
"People count". Under this motto, the A+A in October 2017 presented the latest trends from the field of occupational safety to visitors on an area of more than 70,000 square metres. For Skylotec, the A+A is one of the most important trade fairs in the industry. In order to generate the highest possible brand presence and attention - also in comparison to its competitors - the company decided at the end of 2016 to commission a new stand builder with the stand design. Schendel & Pawlaczyk from Münster convinced with the best brand presentation.
THE STRENGTHS LIE IN THE DETAILS
The requirements for the new stand were high. It had to be modular so that it could be used at different, even smaller, trade fairs over the next few years. Furthermore, the focus should not only be on the products presented, but especially on the brand. Nicole Roth, project manager at Skylotec, comments: "During the course of the project, the employees of Schendel & Pawlaczyk impressed us with their great commitment and high performance. The jointly developed solution with the restriction to our corporate colours black and orange highlight the brand very well and achieve high attention. In particular, the detailed solutions realised in the area of elaborate product presentation raise our trade fair stand to a new level." For example, an individual solution was found especially for the challenging presentation of the safety harnesses. An acrylic glass reduced to a minimum keeps the soft material in shape and at the same time provides a view of all the essentials without distracting from the product.
TWO-PART STAND CONCEPT
The realised stand concept consists of two parts. The 225 m² main stand has a 98 m² upper floor and is also visually connected to the 17 m² side stand opposite via a continuous floor covering. While on the main stand in the uncovered area the product innovations, such as the completely new Inceptor GRX helmet series and the new Raptor height safety device, are presented in an open ambience, on the side stand the company shows permanently installed fall protection devices. In both cases, the stand builders use polygonal shapes that represent stylised industrial buildings and rocks.